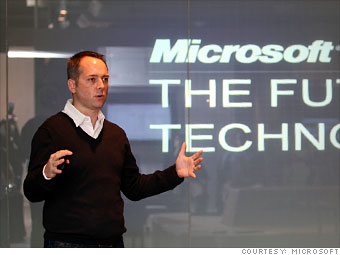 Company: Microsoft
Microsoft is probably best known for its iconic software. But behind its most visible products, the tech company is teeming with people -- including scientists, anthropologists and fashion designers -- that make the company tick. "Behind all of those products is a set of roles and jobs that people wouldn't necessarily associate with the company," says Steve Clayton, Microsoft's Senior Director of Storytelling, whose job it is to root out those people and tell their stories.
While Clayton works in the communications department, unlike many PR jobs, he says his work focuses on bringing hidden narratives to the surface. "This company has a huge amount of personality and a heck of a lot of soul, and part of my job is to expose the soul of the company."
He started at Microsoft 13 years ago on the tech side, helping develop the company's cloud strategy and phone platform. But about five years ago, he started blogging about the most interesting people at Microsoft. Last year, Microsoft asked him if he would like to change his side project into a full-time job.
Since then, he's unearthed the stories behind Microsoft's soundproof chambers for developing Xbox audio, designers who study fashion trends in Paris to decide the colors of computer mice and a researcher in the applied sciences group who works on bringing display screens to just about every surface imaginable. Clayton claims visiting the researchers' lab was one of the most memorable moments in his position so far.
"For me it was like being invited into Aladdin's cave. These are the guys who are turning science fiction into science fact."
This is his dream job, he claims, because he's always been interested in the stories behind Microsoft employees. Now he gets paid to tell them.
More galleries
Last updated January 20 2011: 6:18 AM ET