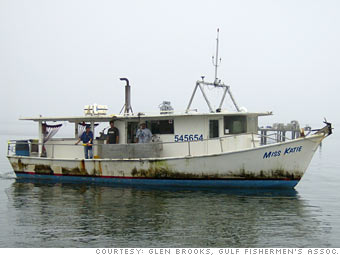 Fatality rate per 100,000 workers: 116
Median wage: $27,880
If ever there was a profession that pits man against nature, it would be fishing. Unfortunately, nature often wins.
"The major problem is weather," said Glen Brooks, a veteran of 30-years of fishing in the Gulf of Mexico. "It's hurricane season now, but even in the winter sudden storms can spring up."
He and his crews tend long-lines, seeking grouper and snapper. The rigs use hundreds of baited hooks that can snag unwary crewmen. "People get hooked and dragged overboard," he said.
Brooks sends employees for safety training, where they learn how to operate and maintain safety equipment like flares, electronic beacons and radios, and how to deal with accidents like fires or collisions. The training has cut fatalities, but can't eliminate them altogether.
In June, a rogue wave swamped three fishermen as they were leaving the Dangerous River in Alaska. Two of the fishermen died of hypothermia before they could swim to shore.
According to the Bureau of Labor Statistics, 29 fishermen died in 2010, which was down from last year. But with a rate of 116 deaths per 100,000 workers, it's easily the most dangerous job in America.