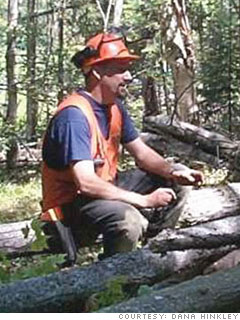 Fatality rate per 100,000 workers: 92
Median wage: $38,660
There's no telling how many times Bill Turney had cheated death in the 54 years he worked in the timber industry. But last June, at age 70, he finally lost out. He was cutting a large tree in Johnson County, Ark. and, as it fell, it hit another tree and struck him.
Turney is one of many logging fatalities in the industry that occurs every year. In 2010, deaths among loggers increased to 59 from 36 in 2009, the Bureau of Labor Statistics reported.
"One of the biggest dangers is that the logger can't see broken tops of trees or limbs hidden by live branches," said Dana Hinkley, founder of Logger Rescue, which trains workers in safety and rescue techniques.
The broken tops that snag in the canopy are called "widow-makers" for their tendency to work loose and fall on the heads of lumbermen.
Violent storms can raise the risk by twisting the trees. And special saw techniques are required to release some of that tension before the final cuts can be safely made.
The macho culture of the logging industry makes safety training difficult, however. "They think they know how to cut trees because grandpa taught them how to do it," said Hinkley. "That good ol' boy attitude keeps them from training."
Logging is safer now than in the past, though, thanks to safer equipment, according to Guy Fregoe, a safety manager for Seaway Timber in Massena, N.Y. "We use a feller-buncher to cut down most trees," he said. "It's on tracks and operators are enclosed in a cab, keeping them isolated from danger."
That protects loggers most of the time, but where a stand of trees is too thick, they have to revert to the old-fashioned method: using a chain saw.