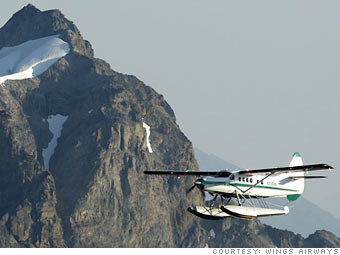 Fatality rate per 100,000 workers: 71
Median wage: $115,300
In mid-August, a Cessna 207 with six passengers aboard crashed into the side of a mountain 150 miles west of Anchorage, Alaska. The pilot, 66-year-old Ernest Chase, and a passenger died in the crash, which was believed to be caused by bad weather. Chase had held a pilot's license for more than 40 years and had flown in Alaska most of those years.
"There are three main factors that make flying dangerous, the man, the machine and the weather," said Mike Stedman, president of the Alaska Air Carriers Association.
In Juneau, where Stedman is based, the weather can change almost instantly and the topography is unforgiving (many pilots have flown directly into mountains). Yet, Stedman, who is also a pilot, said several recent developments have improved flight safety in Alaska.
The Federal Aviation Administration installed weather cams in most of the heavily-trafficked skies of the state, to alert pilots of storms in real-time.
Many Alaskan pilots are also installing new navigation aides that will eventually become standard equipment nationwide. This "Capstone" system displays potential dangers on a computer screen, even in deep cloud cover.
"You can see the mountains," said Stedman, "and the other planes, although they have to be equipped with it as well."