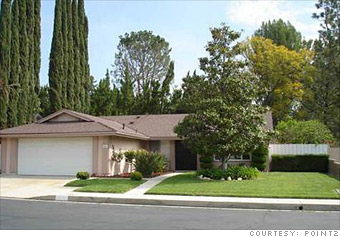 Median home price: $350,000
1-Year change through 2010: 0.2%
Sure, L.A. was a boom town last decade but it was not necessarily a bubble, like Phoenix, Las Vegas and the cities in California's Central Valley. In those places, speculation drove much of the home price increases and the bust has had a devastating impact on the local economies.
The huge Los Angeles metro area, the second largest in the United States, has an extremely diverse economy, which protects it from the cyclical ravages experienced by more one-dimensional cities. The population continues to grow, which ultimately supports prices.
Home prices rose 0.2% in 2010, according to Fiserv, but many sellers are still keeping their asking prices low, hoping for a quick sale. They dropped 8% in March, compared with 12 months earlier, according to Move.com, but appear to have stabilized.
The big positive indicator for the housing market is that, once put on the market, homes, especially well-priced foreclosures, don't sit. They sell in a median of only 79 days, one of the main reasons for Move's positive forecast.
As the foreclosure pipeline dries up and more conventional sales start to claim higher market share, the home price numbers should start to improve as well.