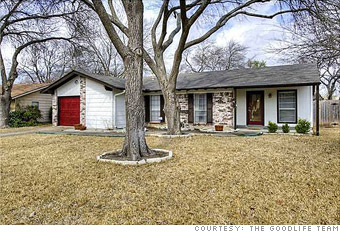 Median home price: $190,000
1-Year change through 2010: -0.7%
Austin has many of the attributes of other Texas cities, such as solid job growth, a rather laissez faire regulatory atmosphere when it comes to home building and plenty of space to grow out into.
Those factors have kept home prices in check despite a rapid increase in demand caused by a large influx of new residents. Since Austin prices never soared toward the sun, they have never fallen back again either: Prices are only down about 2% from peak.
The area has a big tech industry presence, particularly Dell, and a well-educated and well-paid work force associated with the massive University of Texas campus. Its pleasant location on the edge of the Texas Hill Country is also a draw for new residents.
Demand for housing is warming up, according to Move.com. It reported that median list prices in March rose 2% year-over-year, and the typical house for sale only lasted on the market for about 90 days in March, well under the national median.
Metro area home prices remain fairly affordable, at a median of about $190,000, according to Fiserv. The market should be at least stable this year and there's plenty of room for growth if the economic recovery picks up steam.