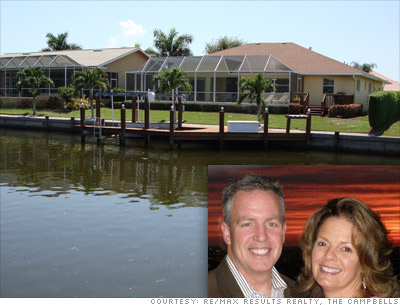 Name: Pat and Lisa Campbell
Where they bought: Marco Island, Fla.
Ages: 50 and 46
Price they paid: $510,000
Pat Campbell and his wife, Lisa, weren't planning to retire for at least a decade, but when they saw a contemporary ranch house with its own dock and a pool on South Florida's Marco Island, they knew they had found the place they were going to spend their golden years.
The four-bedroom, 2,100-square-foot home's value had come down significantly since the housing boom. In 2007, real estate website Zillow valued the home at nearly $1 million. The Campbell's paid half that amount. Not only that, but the couple landed a 30-year fixed mortgage with an attractive 4.62% rate.
With two kids in high school, however, the Campbells won't be quitting their jobs and moving in anytime soon. Instead, they plan to rent out the place for a month or so at a time. They'll also use it for their own vacations.
Renting it out will require active management, though -- booking time with guests, hiring cleaning services and maintenance workers. Pat has a simple solution for the problem: "My wife is going to handle all that," he said.