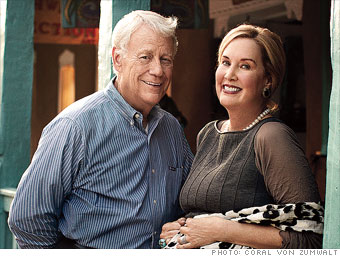 Name: Maureen and Hayden Hyde
Age: 63 and 70
Hometown: Santa Fe, N.M.
When Maureen and Hayden Hyde retired in 2008, the bear market was gaining steam. But because they had traded down, the hit their portfolio took didn't crimp their lifestyle.
Maureen, who ran a staffing agency, and Hayden, a former banker, sold their 5,000-square-foot home with a pool in Tulsa, bought a one-bedroom loft apartment in Santa Fe, and cut the costs of keeping up a home from $20,700 a year to $5,400.
Property taxes fell by 72%, utilities dropped by 71%. Today, the Hydes go to France for three weeks every year, eat out often, and frequent the opera.
"We spend the money we save on living expenses and traveling," says Maureen. "We have more time and less stress."
Here are six ways to
live well on less in retirement.