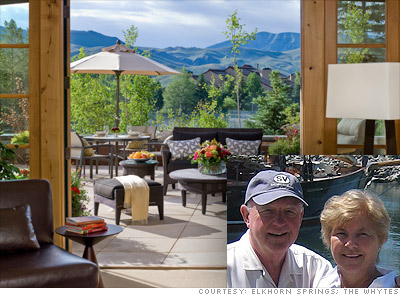 Name: Jerry and Karen Whyte
Where they bought: Sun Valley, Idaho
Ages: 70 and 68
Price they paid: $310,000
Jerry and Karen Whyte will admit that the decision to buy their Sun Valley, Idaho retirement condo may have been a little hasty. But they have no regrets.
"We were in Palm Springs over the holidays when my son-in-law called me from Sun Valley and told me `If you're interested, you better come right now,'" said Jerry, a financial adviser in Huntington Beach, Calif.
So the couple did. They packed up the car and drove 900 miles overnight to see a two-bedroom condo that had been marked down from $650,000 to $310,000 after being on the market for three years.
Taken by the "spectacular mountain views" and the terrace, they bought the place the next day.
Jerry doesn't plan on retiring for another three years, but the Whytes figure they will still get plenty of use out of the place during vacations, holidays and other special occasions; both their oldest and youngest daughters live in the area.