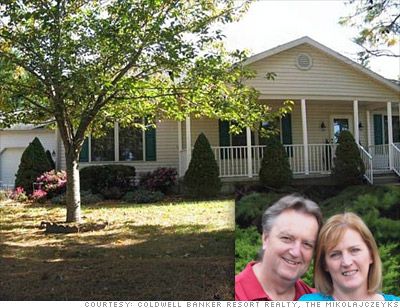 Name: Stan and Donna Mikolajczeyk
Where they bought: Lewes, Del.
Ages: 52 and 45
Price they paid: $325,000
Stan and Donna Mikolajczeyk didn't think they'd be spending their retirement in such a big home, but the market offered them the opportunity to think bigger than they had originally planned.
"Our intent was to downsize, but we fell in love with this place, which is the same size -- 2,500 square feet -- as our house now," said Donna Mikolajczeyk.
The couple just signed a contract to buy a place in Lewes, Del., a short trip from Rehoboth Beach.
Home prices have come down in the area by close to 20% and the price of this house fell 10% since it was first listed late last year. The Mikolajczeyks locked in a rate of 4.01% for a 20-year loan.
Donna, who works as a secretary in the nursing department at Danbury Hospital in Connecticut, doesn't figure she'll retire for about seven years. Stan, though, is eager to leave the 13-hour days of running his Brooklyn supermarket behind.
Until they move in permanently, Donna has a plan.
"I would like to rent the place out for six or eight weeks during the summer," said Donna. Even though the house is a few miles from the beach, it can still bring in rents of $1,500 to $2,000 a week during the high season, which would pay for a lot of the expenses, she said.