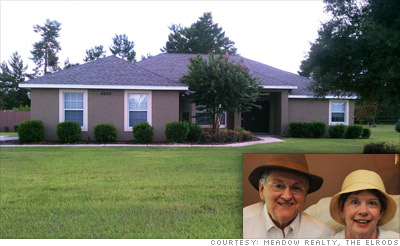 Name: Gene and Carol Elrod
Where they bought: Ocala, Fla.
Ages: 66 and 65
Price they paid: $165,000
Two years ago, Gene and Carol Elrod's retirement plans took an extreme turn. During an operation to repair an aortic tear, Carol started bleeding out. The incident left her a paraplegic.
The Elrods realized they'd now need a place where Carol could easily get around in a wheelchair -- no carpets or stairs -- and with smooth access to the outside so she can get fresh air.
When talking about their future home, the couple immediately thought of Florida, where they had often visited. "My mother and I for years would get off the plane and the first thing she would say is 'We are now over the rainbow,' " said Carol. "If she was still here today I would tell her that I now own a piece of the rainbow, and it is bright, warm, magical and a wonderful place to be."
Not only that, but the central Florida town is especially affordable after being hit hard by the housing bust.
In June, the couple bought a 2,000-square-foot three-bedroom home for just $165,000. The house has a swimming pool and a screened-in porch. Even more importantly, it's all one level and has tile flooring so Carol can maneuver her wheelchair with ease.
The couple hopes to move into the place full time in about two years when Gene retires from his job as a human resources executive with a regional drugstore chain. Until then, they'll continue to live up North most of the year, using the Florida property as a vacation home.