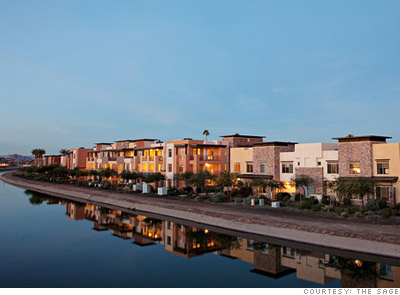 Fortunate enough to take advantage of today's beaten down home prices and record-low interest rates, some baby boomers are buying their dream retirement homes -- years before leaving the workforce.
"We're seeing people purchasing homes five, six, seven years or more ahead of retirement," said William Filbin, a Re/Max broker in Marco Island, Fla.
It's an opportunity that's hard to resist: Home prices nationwide are down 32% from their mid-2006 peak, according to the S&P/Case-Shiller home price index. Meanwhile, mortgage rates are at historic lows with the 30-year fixed-rate hovering around 4.2%.
The question is: What to do with the property when you have so many years to kill before retirement?
To help cover the expenses of an extra mortgage and other bills -- like utilities and property taxes -- some pre-retirees are renting their homes out on long-term leases; others who bought in vacation hot spots rent to vacationers, said Mike Sannes, a Keller Williams broker with Big Bear Real Estate in San Bernardino County, Calif.
It doesn't always cover all the costs, but it helps.
Here are six couples who decided to take advantage of today's market in order to get their dream retirement home now.