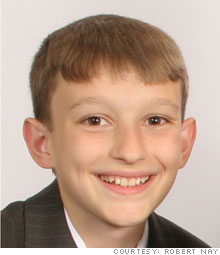 Company: Nay Games
Age: 14
Website: naygames.com
At age 14, Robert Nay's first game, Bubble Ball, was downloaded more than two million times within two weeks of its launch.
Not bad considering that the average mobile game receives a few hundred downloads.In January, the game knocked the monster hit ''Angry Birds'' out of the number 1 most downloaded free game spot in the Apple app store.
''My friends suggested I try making an iPhone app, and I thought it would be really cool and decided to give it a try,'' said Nay. Without any previous coding experience, Nay went to the public library to research how he could go about building his game.

''I came up with the idea for the game by myself, but it was influenced by other games I liked and suggestions from people.''
One month later, after reading a few books and producing over 4,000 individual lines of code, Bubble Ball was complete. The total cost to produce the app: $1,200 -- a sum given to Nay by his parents to purchase a new Macbook and the proper software licenses.
Available on Apple and Android devices, the puzzle game has been downloaded more than seven million times to date.
The eighth grader's new mobile game development company, Utah-based Nay Games, is now working on ''some awesome new stuff for Bubble Ball,'' as well as other gaming projects.
His advice to young people: ''You can do amazing things if you just try.''