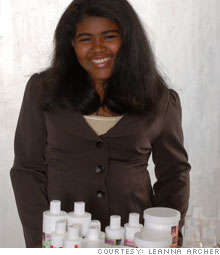 Company: Leanna's Inc.
Age: 15
Website: leannashair.com
Running a successful small business is hard. But these eight kid entrepreneurs are showing that it's just child's play.

Leanna Archer decided she wanted to become a hair care mogul at the ripe old age of 11.
''The idea came to me when I received tons of compliments about my hair and I knew it was thanks to my homemade products,'' said Archer. ''I had nothing to lose, because I figured that if it didn't work out I still had my whole life ahead of me.''
Archer's company, Leanna's Inc., makes eight organic, hair products, which include hair dressings, hair butters and shampoos. Her secret formulas have been passed down through her family for generations and are free of sodium lauryl sulfate and parabens, chemicals which are considered health risks. `'Our products contains no oil filters, no synthetic ingredients, no chemically-engineered ingredients,'' she said.
Last year, the company had revenues of more than $100,000. The Long Island entrepreneur expects that number to increase to more than $300,000 by year-end. She is in the process of building an army of sales representatives across the United States.
Her advice to small business owners: ''All new entrepreneurs should know that mistakes are a big part of success.''