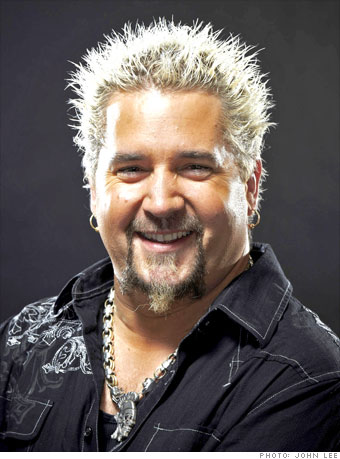 As the winner of Season Two's ''The Next Food Network Star,'' Guy Fieri has shown he's a powerhouse both in and out of the kitchen.
Catching the entrepreneurial spirit at the age of 10, Fieri sold pretzels from a three-wheeled bicycle cart he built with his father. Today, he owns the restaurant chains Tex Wasabi's Rock-n-Roll Sushi BBQ and Johnny Garlic's California Pasta Grill with his business partner, Steve Gruber.
This year, Fieri, 43, launched his own line of barbecue sauces containing no high-fructose corn syrup. He continues to sell his popular Ergo Chef knuckle-sandwich knives in stores across the country.
Considered one of the Food Network's biggest stars, his shows include ''Guy's Big Bite, Tailgate Warriors,'' and ''Diners, Drive-ins and Dives.'' He is also host of NBC's hit game show ''Minute to Win It.''
Last year, he launched a non-profit called Cooking with Kids, which encourages young people to get involved in the kitchen. ''I knew from an early age that I would always be an entrepreneur and a chef,'' said Fieri. ''Yet I had no idea that my two dreams would eclipse at the same time, and at this level.''