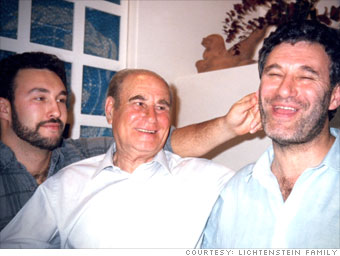 Company: Equilibrium Entertainment
Headquarters: Los Angeles
Demian Lichtenstein, an award-winning filmmaker who has directed music videos for Sting, Eric Clapton and Queen Latifah, said that his grandfather, Icek, and his father, Richard, are ''the single two most inspirational men in my life.''
When Icek was a young man, he fled Poland for Russia to escape Hitler's army. He loaded his wife, newborn son and food into a jeep. The jeep, however, ran out of gas and soon they were out of food. Icek continued their escape, trudging through a snowstorm in the Ural mountains in Russia with his wife on his back and his son in his arms.
It became clear that his son was dying of pneumonia and Icek himself began to weary in the brutal weather. But he knew that if he stopped, he would never get back up again, and they would all die.
So he kept on moving and promised his infant son, Richard, that if he survived through the night, that his son -- Demian -- would not have to live with war.
''We literally would not be alive today if not for that promise,'' said Demian.
Richard, Demian's dad, continued the tradition of being a strong and supportive father.
When Demian started his first business, Richard loaned him $50,000 to get on his feet.
His dad was also supportive when Demian embarked on his latest entrepreneurial path, producing the personal development and motivational book and film ''Discover the Gift.''