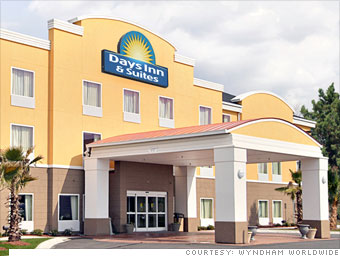 Loan failure rate: 2.3%
Number of loans: 87
Number of failed loans: 2
The ubiquitous Days Inn hotels -- identified by the familiar sunburst logos -- are popular with travelers who are looking for affordability.

The franchise -- which advertises itself as the ''Best Value under the Sun'' -- offers free breakfast, high-speed Internet access and a ''USA Today" weekday paper.
Cecil B. Day founded the chain in 1970. A couple of years later, he started offering franchise opportunities. In just eight years, the franchise grew to more than 300 hotels across the United States and Canada.
The Days Inn hotel was purchased by the Wyndham Hotel Group in 1992, and now there are 1,877 locations.
The loan failure rate for the chain is modest: Of the 87 loans the SBA backed between 2005 and 2010, only two loans failed. But it's not cheap to get one going. To convert an existing hotel into a Days Inn, the initial investment is between $167,570 and $1.4 million. To build a brand new hotel, the startup cost is between $4.3 million to $6.7 million.