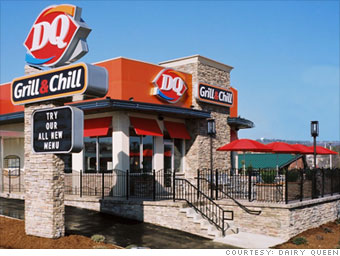 Loan failure rate: 3%
Number of loans: 172
Number of failed loans: 5
Dairy Queen has a fan in Warren Buffett. The billionaire investor gave the franchise his vote of confidence when his company, Berkshire Hathaway, bought it in 1998.

The franchise, which focuses on dairy desserts and fast food, such as hamburgers, has many other fans of its business model.
There are more than 5,700 franchises operating throughout the United States, Canada and 22 other countries.
The Blizzard, one of its most popular desserts, has inspired more than three million members to join the Blizzard Fan Club, called ''Blizz Buds.'' The first version of the dessert was sold on Aug. 4, 1938 for 10 cents in Kankakee, Ill. In an ''all you can eat'' trial sale, more than 1,600 servings were given out in two hours.
To open up a DQ Grill & Chill -- the full-service restaurant that offers burgers, sandwiches, salads and sides, and frozen treats -- a potential owner is required to have a net worth of $750,000, with liquid assets of $400,000. A 76-seat restaurant costs more than $1 million to construct and set up. To open a DQ Orange Julius location -- which offers only fruit smoothies and Dairy Queen treats -- is not as expensive.
Between 2005 and 2010, five of the 172 loans that the SBA backed failed.