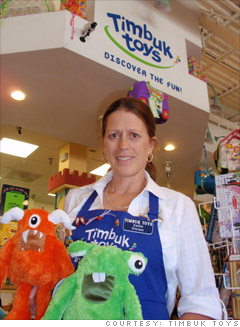 Location: Denver, Colo.
Hiring: No.
The toy industry held up well during the recession. Still, Sallie Kashiwa, owner of Timbuk Toys in Denver, Colo., is not hiring anytime soon.
"We are stable for right now," said Kashiwa, who actually opened a location in 2009 when the economy was still in recession. Today, she has three retail locations, a warehouse and 30 employees. She's not hiring, but she isn't firing either.
"We already have things very tightly organized," she said. "We really can't run on a smaller staff."
So she is going to hold off on expansion.
"I have taken on way more risk than most people would do on behalf of creating jobs," she said. "But at this point, I know that I simply can't take on any more risk. I feel I am tapped out."