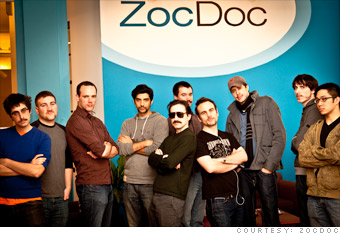 Location: New York City
Hiring: Yes.
"We are hiring, and hiring and hiring," said Karsten Vagner, director of people at ZocDoc.
One year ago, ZocDoc had 36 employees, and now the firm has 150 employees. "That is just the beginning. I hope that this time next year we are closer to 400 or 500 people," he said.
ZocDoc launched just about four years ago as a service to help New Yorkers connect with dentists. The company now connects patients with primary care physicians, dermatologists, psychiatrists, and other doctors in major metropolitan cities from coast to coast.
The company is aggressively hiring, because it is rapidly expanding into new markets.
The idea for the company came when Cyrus Massoumi, ZocDoc's co-founder and CEO, flew across country with a sinus infection. His eardrum burst when he landed in New York City. But it took him four days to find an appropriate doctor.
ZocDoc receives about 800 resumes daily, according to Vagner, who was the company's third employee and hired as a temporary office manager.
"I am very aware of the state of the economy," said Vagner, who said the best part of his job is being able to make an offer. "I have a fun title, but I understand the responsibility that it comes with."