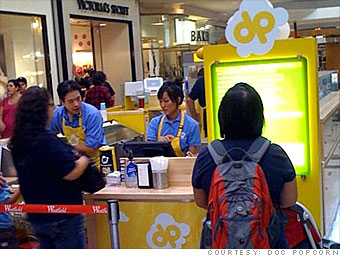 Hiring manager: Cary Cheung
Company: Doc Popcorn
Headquarters: West Corvina, Calif.
Website: www.docpopcorn.com
When we first started placing job ads on Craigslist, my wife and I received nearly 100 resumes a day. Not only were there too many people to meet with, but after sitting down with each candidate for 30 minutes, we still didn't know how they worked.
So we came up with the idea to interview candidates in 'American Idol' style. Candidates are placed into groups and are asked to perform while we sit and judge. My wife's a lot like Paula and I'm more critical like Simon.
One of the questions we ask is, "How would you grab a customer's attention in order to give them a popcorn sample?" One candidate actually turned it into a whole Shakespearean performance. That's someone who can stand out in a crowd and who's more likely to sell popcorn in a crowded and noisy shopping mall. --C.W.