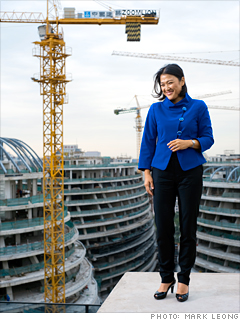 Name: Zhang Xin
Age: 46
Zhang Xin was working as a warehouse employee in Hong Kong when a childhood friend from her hometown, Beijing, visited. "It turned my whole world upside down," Zhang told The New Yorker in 2008. Her friend could speak English, was attending college, and suggested Zhang come to America. Instead, she moved to London, learned English, and received a scholarship to the University of Sussex -- and ended up at Goldman Sachs by 1993, only to leave one year later.
Tired of the fast-paced, investment banking life, Zhang returned to China and interviewed with a real estate developer, Vantone. There, she met Pan Shiyi. He proposed four days later. In 1994, the two married and went on to start their own real estate development company, Hongshi, which was soon after renamed SOHO China. Seventeen years later, the company is Beijing's largest real estate developer.
Pan Shiyi was her co-CEO until Zhang, 46, took the reigns in 2004. Under her leadership, the company went public in 2007 and raised about $1.9 billion. Last year, the company reached $2.8 billion in sales.
SOHO China buildings have a very distinct style. Three SOHO China projects --Galaxy SOHO and Wangjing SOHO in Beijing and Hongqiao SOHO in Shanghai --are designed by Zaha Hadid Architects, the London-based firm whose founder specializes in modern, parametric architecture. "We didn't start off trying to build a brand," Zhang told China International Business last January. "But I am very aware of architecture as a cultural element of a country."
Zhang and her husband are know for more than the monstrous buildings they've developed throughout China; their inclination toward the avant-garde is often echoed in her personal life: the two are known for their glamorous parties and famous friends.
Despite talk of a real estate bubble in China's large cities, Zhang remains optimistic about her home country's prospects. A few months ago, SOHO acquired Jiarui International Plaza, renamed SOHO Zhongshang Plaza, for approximately $296 million -- this is SOHO China's ninth acquisition in Shanghai within the last two years. The company is also constructing a new 50,000 square meter project in Beijing -- Galaxy SOHO -- that is slated for completion by 2012.
"In China, you know, matter what industry you're in, you're able to just put your thoughts into it, try something new, because nothing was there," she told Charlie Rose in a July interview. "So still even -- you know... it still feels like anything is possible."