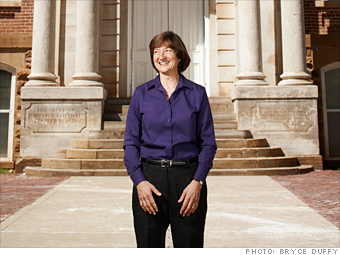 Name: Carol Reeves
Company: University of Arkansas' Sam M. Walton College of Business
Age: 53
Carol Reeves is to business-plan competitions what Joe Paterno is to college football: A winning coach who inspires her teams, expects excellence, and keeps students focused on the big picture.
Reeves, 53, is an associate professor of management at the Sam M. Walton College of Business at the University of Arkansas and a seasoned adviser to student-run companies. With the proliferation of lucrative business-plan competitions such as the annual contest hosted by Rice University, Reeves' services have never been more in demand.
Her most recent success story: BiologicsMD, which produces a drug that battles osteoporosis. Michael Thomas, Robyn Goforth, Misty Stevens, and Paul Mlakar, Jr., met in the New Venture Development class at the University of Arkansas and formed the company as part of a class project -- a foursome Reeves calls a dream team because they each brought a different expertise to the table. Goforth and Stevens provide the scientific background--the two boast PhDs in Chemistry and Biology, respectively. Mlakar, a West Point grad, previously led a privately-held construction company from zero to $22 million in a few years; he acts as Biologics' CEO. And CMO Thomas is very familiar with consumer marketing, seeing as he is a National Account Manager at Colgate-Palmolive.
Biologics went on to win the 2010 Rice contest, which carried with it about $420,000 in prize money. While other teams presented a medical device that can assess and quantify hand strength and a drug delivery device that mixes and injects freeze-dried medication, Biologics wowed the judges--and Reeves--with its scientific prowess. "I couldn't even spell the words of the questions [the judges] were asking because it was such high level science," Reeves jokes, "Robyn and Misty knew it forwards and backwards, so they could answer any scientific question."
Reeves boasts, "We've averaged one startup a year for the last six years. For Arkansas, that's a big deal." BiologicsMD won five competitions in 2010 and earned over $630,000 in cash, prizes, and investments under Reeves leadership. It's now a grownup company, as Reeves calls it, smoothly transitioning from class project to real-life startup. Earlier this year, BiologicsMD was awarded $2.3 million from the Department of Defense.
Reeves is a big supporter of bringing together students with different specialties. In 2006, she developed a Graduate Certificate in Entrepreneurship program for non-business majors. Her class pairs students with one another to create start-up business plans. The students then present those plans at various competitions.
A pro on the subject, Reeves advises fledgling entrepreneurs: "Get ready to work very hard. It's not very glamorous, but you will be amazed how much you can get accomplished if you work hard." Also, Reeves emphasizes that you must know your industry. "Make sure there's a really big pain out there." She continues to mold students into brilliant entrepreneurs, hoping to not only help Arkansas' economy, but America's. "I think if we encourage entrepreneurship, we can do great things." And if Reeves star-studded teams aren't enough to bolster her argument, I'm not sure what is.