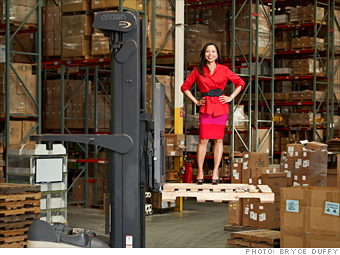 Name: Sue Chen
Age: 41
Sue Chen is on a mission to revolutionize and transform ambulatory products --a dull term used to describe a dull category of products: Walkers, canes and other devices that help older and infirmed people get around. But Chen's Nova Ortho-Med is making walkers, well, just a little bit racy.
Founded in 1993, Nova Ortho-Med launched a product called Voyager, which Chen billed as a "Ferrari Red" four-wheeled walker in 1995. The company has since introduced a variety of fairly stylish canes, crutches, cushions and items for bathroom safety. The different lines of walkers have zesty names like the "Zoom series" and the "Getgo series" -- perfect for aging Baby Boomers who don't want to be thought of as oldsters. "No one looks forward to the day they have physical issues. It's important to know that you have options," says Chen, 41.
Chen's inspiration was her father. A physician in his native Taiwan, Bruce Chen moved his family to the United States when Sue was just four. He had hoped to become a famous surgeon but found work as a physical rehabilitation physician. "It's not glamorous," says Chen. "There's little innovation. My father would ask, `Why isn't more money, time, and thought put into medical equipment to help people move better?'" He lost a battle with cancer when Chen was just fourteen, right as her uncles were beginning to build a manufacturing company.
After graduating from Trinity College in 1992, Chen moved to California -- without a plan. She then remembered her father's dream and, with the support of her uncles' manufacturing company, she founded Nova Ortho-Med when she was just 23 years old.
Chen started safe, because it was a "male dominated space in an industry that was heavily controlled by insurance and Medicare." Intimidated, her products resembled every one else's. But it was when she met a customer -- a sassy, spicy woman -- that she looked at her and then looked at the walker. "I thought, `This does not go.'" It was that woman, and Chen's affinity for shiny red cars and toenails, that inspired the Voyager.
Despite the company's successes -- its sales last year topped $25.6 million -- Nova Ortho-Med has had to deal with the kinds of challenges and issues that come with being a health-products provider. Four years ago, Chen and her team faced a huge consumer-filed lawsuit. According to Chen, a customer injured himself while using one of the company's products, and the injury led to his death. The lawsuit was settled, when, says Chen, it was discovered that "our product did not cause his fall." But the entire situation, "really broke my heart," she recalls.
It turned out to be a huge turning point. "Being at that bottom point -- questioning every motive I've ever had in running this company that I love so much -- made me realize how much I do love what we do. It completely renewed our mission." The company rebranded and revisited many of the warning labels on their products. "There is nothing that is worse then compromising the quality of the safety of your product."
With a new line of glamour bags that incorporate "current, fun, timeless styles," Chen continues to inspire mobility makeovers. "Dealing with an aging parent, dealing with a debilitating disease, dealing with the discrimination of being in a wheelchair," shouldn't be your identity, she emphasizes. She acknowledges that she can't change the denial aspect of the industry, but she can help make her customers' lives better.
"I'm not just building a company anymore; I'm not just making grandma hot here and there. It's time for somebody -- and it's going to be a woman -- to transform the industry." Nova Ortho-Med's 2010 revenue was $24.7 million -- and that number's expected to grow even more in 2011. Next time you see a colorful cane or patterned walker purse at a mom and pop medical stores, CVS, or on Amazon.com -- just a few of the many suppliers Nova Ortho-Med works with -- or a woman running after a man with a tennis ball-clad walker, don't be alarmed. It's just Sue Chen. "I get to live out my father's dream. And I get to improve peoples' lives. That's the ultimate American dream."