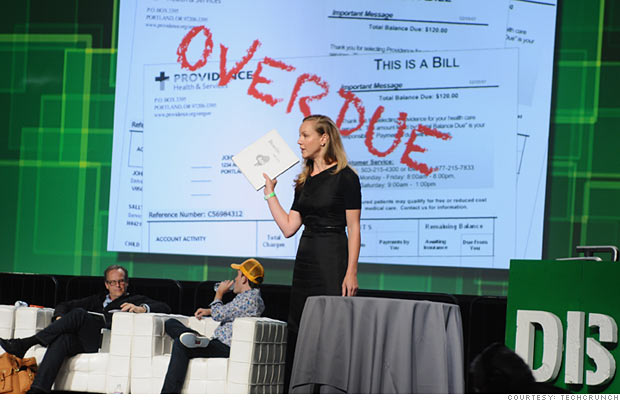 Headquarters: San Francisco
Founded: 2010
Funding raised: Undisclosed
Mission: Bringing order to healthcare chaos
"The only thing worse than getting poked and pried at by your doctor is having to deal with all this paperwork," Cake Health co-founder Rebecca Woodcock told TechCrunch Disrupt's audience.
Described by one of the judges as "Mint.com for healthcare," Cake Health aggregates all of your healthcare information in one place. Users can see their out-of-pocket costs versus what their insurance picked up, and can track progress toward their deductibles. The service also issues reminders when prescriptions need to be filled or a routine doctor or dentist visit is in order.
One especially fun feature: Cake Health's iPhone app "reads" medical bills. Snap a photo of the bill and the app will add it to your profile and start digging into its fine print.
"We'll cross-reference insurance, claims and whether it's covered or should have been covered," Woodcock said.
The crew plans on building a business through insurance referrals: They've built a recommendation engine that helps match customers to the best plans for them. They're also considering taking a fee for helping users pay their bills.
Cake didn't win TechCrunch's top prize, much to the frustration of some influential fans. TechCrunch editors Paul Carr and Sarah Lacy -- who quips about her annual curse of jinxing her favorites -- both picked it as one of the show's most innovative startups.
"can't believe shaker won disrupt. wow. now i might quit ;)," Lacy tweeted -- a sly dig at the week's roiling drama over TechCrunch's editorial schism with its corporate parent, AOL.