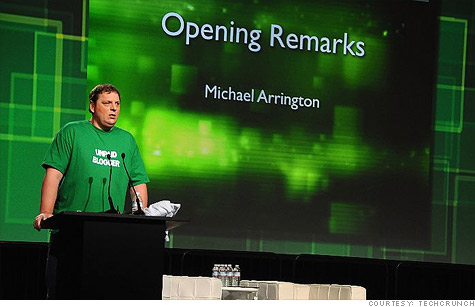 TechCrunch founder Michael Arrington opened this year's Disrupt conference with an announcement that he is leaving AOL -- and a snarky t-shirt throwing a jab at his ex-corporate master.
SAN FRANCISCO (CNNMoney) -- One year ago at his annual TechCrunch Disrupt conference, Michael Arrington -- founder of the blog that functions as Silicon Valley's hometown newspaper -- took the stage and shocked the audience with a deal to sell his venture to AOL.
That deal came crashing down Monday, when Arrington kicked off the opening day of this year's TechCrunch Disrupt by announcing his departure.
"It's a sad day for me because I built this, and I built the team that built this," said a visibly somber Arrington. "Unfortunately, I'm going to be the first to leave. It's no longer a good situation for me to stay at TechCrunch."
TechCrunch's parent company, AOL (AOL), released a statement during Arrington's announcement naming Erick Schonfeld editor of the blog.
The moves are aimed at resolving a soap opera that has transfixed Silicon Valley for the past week, ever since Arrington unveiled his plan to launch -- with AOL's backing -- a venture capital fund that would invest in some of the same tech startups that TechCrunch obsessively chronicles. That sparked a messy fight over journalistic ethics -- one in which Arrington and his AOL boss, editorial director Arianna Huffington, clashed volcanically.
Huffington announced that Arrington would no longer have an editorial role at AOL or TechCrunch but could continue to contribute as an unpaid blogger. Arrington responded by demanding that AOL either cut TechCrunch loose from Huffington's oversight or sell the site back to him.
By Monday morning, both sides seemed to have compromised on option number three: Arrington's departure. He will now focus full-time on his venture fund, which AOL says it will remain an investor in.
The controversial and always outspoken founder fired off a few barbs on his way out the door. As he took at stage at TechCrunch he unveiled his attire for the day: A t-shirt emblazoned with the words "unpaid blogger."
One AOL employee, who asked not to be named, described the situation between AOL's Tim Armstrong and Arianna Huffington as "sitting at the table while mom and dad fight."
TechCrunch's crash-and-burn ending to its AOL marriage wasn't exactly unexpected. As he announced the deal last year, Arrington polled the TechCrunch Disrupt audience on whether or not he should sign the papers. "Absolutely not!" beat "yay" by about a 60/40 split.

As one of TechCrunch's own writers sarcastically tweeted last week: "Who'd have thought selling to AOL would have ended in such a shit-show? There's literally no precedent for it." AOL's takeover of Time Warner, the parent company of CNNMoney, did not end gloriously.
Another Disrupt, another controversy
TechCrunch's annual San Francisco conference, the flagship of the site's expanding Disrupt event franchise, has a history of scandals and blowups.
Right before the kickoff for last year's gathering, Arrington posted an article about a "secret" meeting of angel investors he claimed to have crashed. Arrington said the cabal of tech industry influencers had been meeting to talk price-fixing -- a collusion that would both be illegal and would have a massive impact on Silicon Valley's startup ecosystem.
A series of leaked e-mails and blogged battles followed. The "AngelGate" scandal was the talk of the town in the week leading up to Disrupt -- but it died a quick and quiet death soon after.
Then there was the throwdown between Arrington and serial entrepreneur Jason Calacanis over the conference itself.
Arrington teamed up with Calacanis in 2007 to create a conference to highlight promising new startups. Called TechCrunch 50, the gathering launched some of the industry's most buzzed-about startups -- including Mint.com, acquired soon after by Intuit -- but fell apart three years later amid an acrimonous fight between the founders.
Arrington created TechCrunch Disrupt from the ashes, as he and Calacanis swapped lawsuit threats and personal slanders.
Despite the roiling dramas -- then and now -- Arrington insists that his goal is keep Disrupt focused on the new startups it spotlights.
While he's no longer a part of TechCrunch, Arrington said Monday that he will continue to play a role in the conference in the future.