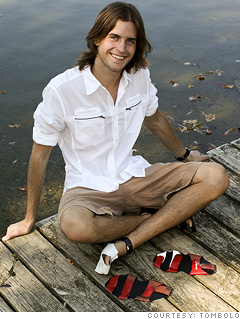 Company: TOMBOLO Goods Manufacturing
Owner: Jimmy Tomczak
Headquarters: Ann Arbor, Mich.
Being debt-free brings me one step closer to financial freedom. I don't have to make a decision based on money. Instead, I look at what I really want in life and how I can have the greatest impact on the world.
I'm 23 years old and just graduated from the University of Michigan. I earned scholarships and worked to pay my way and wore my cap and gown with no debt hanging over my head.
My parents are divorced, and my mom took care of me and my sister who has special needs. The money was never there for anything extravagant. We lived with my Grandma and Grandpa all through high school.
I founded TOMBOLO Goods in September 2010. It is the parent company for Paperfeet, which are paper-thin vinyl sandals. The vinyl comes from discarded billboards. My startup has no debt and was funded from the first sales of Paperfeet.
Paperfeet shoes roll up and can be put in your pocket. They are for people who need something to transition to barefooting.
TOMBOLO's line also includes functional eco-beach adventure gear. Revenues are strong and increasing. We plan to debut additional gear soon.
With cash I earned from this and other entrepreneurial adventures, like my marketing consulting company Lingo Definition and Design, I purchased my first house -- a modest fixer-upper down the street. The owner offered me a deal I couldn't pass up. I paid less than $100,000 in cash.
It is not that I am scared of debt, but there is another way. Self-reliance is the best way to do things. That is kind of the American dream.