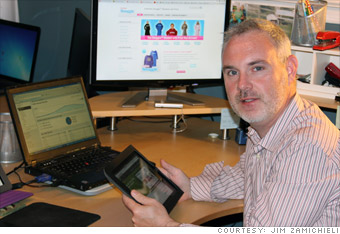 Company: Zamolution
Owner: Jim Zamichieli
Headquarters: Philadelphia
I sleep in Wells Fargo's house every night. And for the next 20-some-odd years, Wells Fargo will let me stay in the house until I've paid off the mortgage.
Because of this, I don't want that bank or any bank holding the fate of my business in its hands.
I didn't take out any bank loans to start my digital marketing company Zamolution. Instead I invested $20,000 in personal savings to get it going. It was a grassroots, Apple-type, startup-in-the-garage venture.
I had been in corporate America for almost 15 years. Part of the challenge of becoming an entrepreneur was not starting out in the hole by getting a small business loan.
I could grow dramatically with a loan. But I went through the dot-com era and saw how a huge influx of capital can make companies undisciplined with their expenses. Not taking out a loan absolutely makes me more conservative in my spending.
Not wanting to take on debt probably comes from my upbringing as well. My dad had his own business, re-upholstering furniture. When I was eight or nine years old, he paid me a nickel for every time I took the old material off of a kitchen seat. For every 20 seats I did, that was enough money to buy a Matchbox car.
Sounds pretty silly, but that ingrained in me that if you want more, you really need to work harder. It's as simple as that.