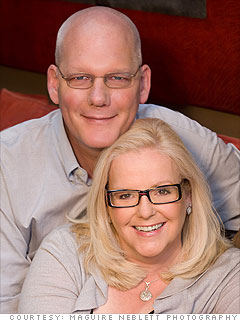 Company: Whitestone Partners Inc.
Owners: Doug and Polly White
Headquarters: Richmond, Va.
Just a few years ago, the Whites had separate careers: As a strategy and finance executive, Doug traveled extensively. Polly, a human resources executive, didn't want him to be out of town so much. To be together more often, the married couple started a management consulting firm in the summer of 2009.
They now run Whitestone Partners out of a home office they built over their garage. They occasionally hire administrative help, but they are the only people who work full time on the business.
There are perks to the arrangement. Doug gets up at 5 a.m. and knows to watch for a flickering light from the bedroom about 6 a.m. That's Polly signaling him that she's ready to be served coffee in bed.
"Unless we are working with a client that only needs one of us, we are together all day long," said Polly.
"The good part is Polly is my best friend," said Doug. "There is nobody on earth that I would rather spend time with."
But spending all day every day with one person does come with challenges. "We even work at a partner desk. We face each other all day long," said Polly. "You need to be very considerate of the other person, know their likes and dislikes," she added. "The better you know someone, the more you know their weaknesses and frustrations. They have to be careful to "not push each other's hot buttons," explained Polly.
When they do, they just separate. Doug watches football, and Polly will watch a movie in another room.