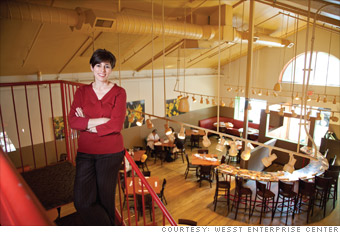 Incubator: WESST Enterprise Center
Location: Albuquerque, N.M.
A lack of high paid jobs has created a wellspring of entrepreneurs in New Mexico.
"Entrepreneurship for a long time has been key to this area," said Agnes Noonan, president of WESST, a statewide small business development and training organization.
Consequently, New Mexico has become a rich financial ecosystem that offers startups access to private capital, both through venture capitalist and angel investors.
WESST was founded in 1988 by three women to help women start their own businesses. Six years later, the organization expanded to five centers across the state with 75% of its clientele being women. Two and a half years ago, WESST also opened its first incubator in downtown Albuquerque.
"Because of our unique collaboration with the city of Albuquerque, it's all about job creation," said Noonan. WESST both physically houses young startups at its business incubator and also provides "virtual" incubation to entrepreneurs through training programs at its five other centers.
Over the past two years, Noonan said WESST Enterprise Center has created 136 new jobs in the Albuquerque area and generated $14.3 million in revenue.
Medical Practice Solutions, a women-owned medical billing and patient advocacy company has been in the program for about two years, and has grown to 13 employees.
Nouveau, a women-owned cosmetics company, was acquired by a larger Dallas cosmetics company one year after joining the program. And IntelliCyt, a biotech company that's not women-owned, but is graduating from the WESST incubator next month, has doubled in size and selling its products overseas.