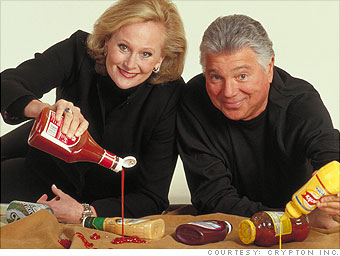 Company: Crypton
Owners: Craig and Randy Rubin
Headquarters: West Bloomfield, Mich.
Craig and Randy Rubin started their specialty fabric company in the basement of their house, with no money.
"We are two crazy people. But it has been an amazing ride," said Randy, who married Craig three months after they met in 1993. "The secret of our business is that we weren't both scared on the same day. Because I am telling you, we had everything at stake."
Their gutsiness paid off. Eighteen years later, the company -- which makes fabric that's stain-, water- and bacteria-resistant -- now has 120 employees.
The couple still shares an office, because they both always want to know what is going on. Being around each other all day is not so easy.
Craig speaks too loudly, Randy said. To get him to lower his voice, "I make these signals. Sometimes I pound on my table. It is very unprofessional, but I have to do what I have to do," she said.
To get some alone time, Randy sometimes escapes for a few days to her New York City apartment. But the occasional frustrations are worth it, she said.
"This is our baby. And we have created it from nothing," said Randy. "It is an amazing thing to be able to share this."