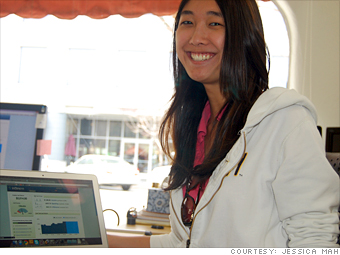 inDinero
Age: 21
InDinero offers small businesses a way to track their finances by inputting their accounts with the attention of a financial advisor, but "completely free of accounting jargon," as its website promises. This emphasis on providing a service for small businesses without accounting training is at the core of inDinero, says co-founder Jessica Mah.
Mah launched inDinero out of her dorm room at U.C. Berkeley with classmate Andy Su in July 2010, before moving into a house and using its living room as its office (inDinero has its own offices now, but Mah says the two co-founders remain roomies). That September, the company raised $1 million from investors such as YouTube co-founder Jawed Karim and Y Combinator, the famous seed venture fund for tech start-ups.
Today, the company has six employees and over 20,000 businesses using its servers, with over 2.5 million transactions carried out. The company only just began charging for its services: $19.95, $29.95, or $49.95 per month, depending on a company's amount of transactions. Mah says inDinero plans to "step on the gas pedal" in the next few months, increasing its public profile through social media, search engine marketing, and in-product word-of-mouth (incentivized referrals by customers). Mah estimates that with expanded marketing, inDinero can quickly grow five-fold.