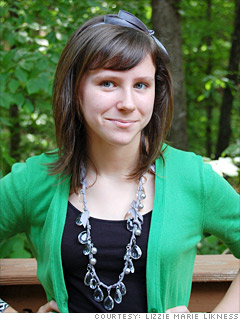 Lizzie Marie Cuisine
Age: 11
Lizzie Marie Likness, the youngest on our list, runs Lizzie Marie Cuisine, a site that offers cooking tips, product reviews, and recipes. Her entrepreneurial life began at six years old: She paid for her own horseback riding lessons by selling homemade breads and cookies at farmers' markets. Her equestrian career didn't last (she says she rode for a year-and-a-half), but her cooking stuck. Her "Tasty Tidbits" food education project won a grant in 2007 from DoSomething.org. This past January, Likness appeared with four other young grant winners in The Kindness Challenge, a philanthropic competition run by DoSomething.org, USA Today and the Rachael Ray Show. Likness also appeared on a panel at Digitas' NewFront 2011, discussing new media and how it affects relationships with friends and family.
Likness is working on a cookbook and is in talks to create her own line of food products or join another chef's brand family. Down the line, she says she would love to have her own cooking show like Rachael Ray, but she's first and foremost focused on her education. As a home schooled student, Likness can focus on her cooking, taking time off for events and working ahead in lag times.
Her advice for young entrepreneurs? Don't be afraid to ask for help, start small, and if you encounter doubters, "that's their own problem."