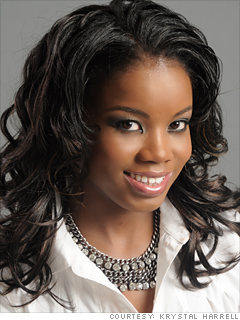 Create Exposure
Age: 23
Krystal Harrell got her start as an entrepreneur at age 13. Her mother loaned her $20 to start Lucky You Design, which took off when Harrell expanded the clothing company from pajamas to customized apparel and accessories -- she was all of 16 at the time. She sold Lucky You in 2009, and used that funding to start her current venture, Create Exposure, in 2010.
Create Exposure provides marketing research, PR, and design services catered to appeal to young consumers. In Harrell's hometown of Charlotte, N.C., the company has worked with clients such as SKYY Vodka and the Susan G. Komen for the Cure foundation. Looking ahead, Create Exposure's team of two in-house staffers and six long-time freelancers is developing online social tools for the Democratic National Convention, which will be held in Charlotte next year.
Harrell is one to keep an eye on not only for her marketing firm, but also because of her interest in camel milk. Working with a female business partner in Karachi, Pakistan, Harrell has developed partnerships with farmers and manufacturers in North Carolina and plans to hit the ground running with her own U.S. camel milk brand when the U.S. Food and Drug Administration approves the product, which Harrell bets will happen in early 2012.
Harrell hopes that her example will show other young women that they can succeed in launching their own businesses. "It's not rocket science," Harrell says. "It's just having tenacity and drive."