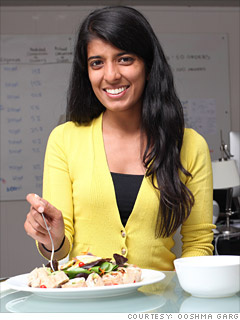 Gobble
Age: 24
At just 24 years old, Garg has two ventures to her name. She started her first company, a job-search site called Anapata, during her junior year at Stanford. She spent three years working on Anapata, which matched job-seeking students with potential employers, primarily in the legal industry. In October 2010, legal services company LawWerx acquired Anapata. Garg says she sold so she could focus on Gobble, her latest venture, but she remains on the Anapata board.
Her second and current venture, Gobble, connects customers with a network of chefs (at varying levels of expertise) to secure home-cooked, deliverable meals. Garg's interest in creating the company stemmed from her own dietary decline. "Starting [Anapata], my eating habits went down the drain," she explains. When her parents suggested she search for home-cooked meals in the Bay Area, Garg put an ad on Craigslist, asking for a home-cooked meal for six to eight dollars -- and got enough audition dishes to eat free for a month.
Gobble has raised $1.2 million in funding, led by LinkedIn cofounder and blue-chip tech investor Reid Hoffman, who checks in on the company regularly. Garg heads a team of six core staffers and an array of drivers, chefs, and distribution managers. The former head chef at Google headquarters has moved his business to Gobble and earns as much as $90,000 a year through the site. The company has grown 200% each month since its full launch in May. And the company only aims to get bigger: Gobble plans to hit the East Coast in January 2012.