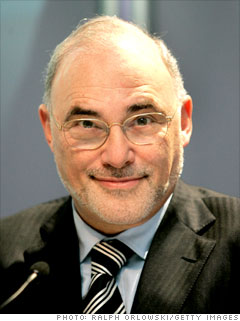 The tech field shifts so quickly that once-great companies can turn into afterthoughts in the blink of an eye.
That's a pressing problem for a number of top CEOs right now. The industry is confronting a post-PC, mobile, social and highly inter-connected world -- one that may leave some existing giants behind.
Hewlett-Packard is a prime example. With a heavy reliance on low-margin businesses like personal computers and printing, as well as an under-investment in its flat-lining services unit, HP is badly in need of a makeover.
CEO Leo Apotheker has started his overhaul. Last week, he announced an accelerated plan to ramp up HP's services business -- after blaming former CEO Mark Hurd for the division's woes. In March, Apotheker unveiled the company's new strategy, which puts a greater focus on software and servers.
But investors remain unconvinced. HP's stock has fallen 16% since Apotheker took over as CEO in November, and shares nosedived after his latest outlook came in below Wall Street's and HP's prior forecasts.
Many analysts urged patience, saying that investors are overreacting to HP's struggles. The company's current market capitalization is about two-thirds its annual revenue.
But others believe Apotheker simply isn't the right man for the job. He doesn't carry the greatest track record: He was ousted as the head of German software giant SAP last February.
"He's going to have to take more risks," said Joel Achramowicz, analyst at Blaylock Robert Van. "After two quarters of tenure it's still the same HP. He's applied a thin patina of cloud to the equation, but I just don't think he can do what's necessary there without shaking up the cart and doing something aggressive and provocative."