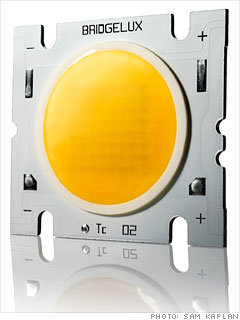 Revenue: $40 million
Headquarters: Livermore, Calif.
Industry: LED lighting
Founded: 2002
Employees: 250
From Delhi to Denver, we spend about $234 billion a year for electricity to power everything from our table lamps to street signals. Light-emitting diodes (LEDs), a high-efficiency lighting technology, promises to cut those costs by half. Bill Watkins, the CEO of Bridgelux, which makes LED lights, says his industry, which posted $880 million in revenue in 2010, is on track to hit $3 billion this year. Says he: "This is a disruptive technology that will turn into a $100 billion global market." LEDs emit light when electrons excite material layered onto a microchip (right). The challenge: The lights are expensive. A 60-watt LED costs $20 and up, compared with 25¢ or 30¢ for an incandescent. And Bridgelux, which is not yet profitable but expects its sales to double this year to $80 million, has to go up against big rivals like GE and Philips. The startup, backed by Vantagepoint and other VC firms, says prices are dropping fast, however, and its technology can produce light that's as warm as an incandescent's, is dimmable, and can be adjusted to create different moods -- a boon for retail stores. Watkins argues that even at $20 a bulb, LEDs can pay for themselves in two to three years.
--Brian Dumaine