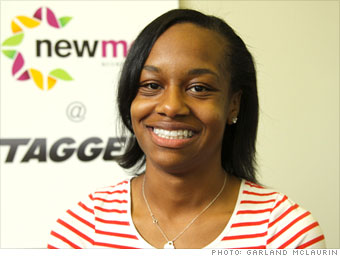 Age: 26
Hometown: Fayetteville, N.C.
I've been programming ever since I was a little kid. When I was about six, my parents got me a V-Tech Precomputer 1000, a computer-type toy. I got bored with the games and checked out the manual, which explained ways to program with QBasic. Many years later, I ended up getting a full ride to Howard University for computer science.
I interned at IBM, then twice at HP. At IBM it was a team of all white guys. I could tell they had never worked with a woman, or a minority. They would make little jokes. It's never everybody, but it's always a few. By the end of my internship, they said I fit in because I learned to talk about Porsches and golf.
I graduated from school in 2008 and took about 18 months off. Then I picked up a job as a Web developer for my uncle's company, a government contractor. It was fun, but I always thought about doing my own thing. I kept coming back to an idea I had in college. During my senior year, I was really busy and it was tough to make an appointment with my hairstylist. First he missed the call, then I missed the call and we were playing phone tag for a while.
That's how I came up with Pencil You In: a site where people can book salon appointments online, making the process much easier for customers and businesses. We also help salons expand their social media presence on sites like Twitter and Facebook.
Coming in as a double minority -- a black woman -- has been tough in the tech space. It's also hard being located in North Carolina. I live about an hour from Raleigh and Durham, where there's a pretty healthy VC community. But the tech scene there is just as homogenous in some respects, plus you just don't have the access to people like you do in Silicon Valley. It's been great to talk to these big names -- and to show that a lot of us in the tech space might not fit the image of what you'd expect. -As told to CNNMoney staff reporter Julianne Pepitone