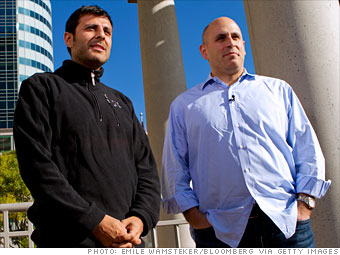 Founders, Quidsi
Amazon
When childhood friends Vinit Bharara and Marc Lore launched Diapers.com in 2005, conventional wisdom said you couldn't make money selling bulk commodities online. Bharara and Lore weren't buying it. Their business plan envisioned diapers as a "loss leader and relationship builder." Low-priced diapers would get busy moms in the door. Diapers.com would win those moms over via free, fast shipping and high-touch customer service. Moms would return to buy not just diapers but also pricier gear like strollers and toys.
Bharara and Lore called their new company Quidsi, Latin for "What if?" They built an elegant, intuitive storefront that now stocks more than 35,000 baby items. Behind it, they set up a sophisticated logistics and fulfillment enterprise. They designed software that determines which of 23 different-sized boxes should be used to ship an order at the lowest possible price. Lore created an algorithm to determine precise inventory amounts and when to reorder. And Quidsi uses a range of national and local shippers to keep costs down and make sure orders arrive on time.
Given that Amazon was already winning the price and delivery game, this wasn't obviously a winning strategy. But the moms came, and as moms do, they told their friends: No more late night diaper runs or standing in line at Costco to buy formula. Last year, Diapers.com posted $300 million in revenue. That included sales from Soap.com, a dedicated site for household essentials, which launched in July 2010 and offered moms another 30,000 items to buy. Soap.com shares a checkout cart with Diapers.com and offers the same value proposition: low prices, great service, fast delivery.
Clearly the Quidsi guys were onto something, so it came as little surprise when Amazon scooped up the company last November (final price: $545 million). But the giant Seattle e-tailer didn't just get Quidsi's loyal customer base or logistics operation; it acquired the genius duo of Bharara and Lore, who continue to run Quidsi from its headquarters in New Jersey. This past July the Quidsi team launched pet supply site Wag.com. Bet on Quidsi's founders to overturn the hapless legacy of Pets.com. Says Jordan Rohan, an Internet analyst at boutique investment bank Stifel Nicolaus: "Marc and Vinit ventured boldly into Amazon's province, the land of low margins and free shipping, and they emerged victorious."