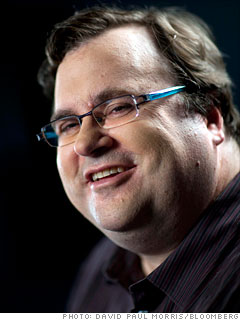 Executive chairman, LinkedIn
Partner, Greylock
He may never be portrayed in a Hollywood blockbuster, but there's no doubt that Reid Hoffman is one of the stars of the social network phenomenon. In 2002, around the time that a certain young prodigy was matriculating at Harvard, Hoffman was already building LinkedIn, today the world's largest professional network with 100 million members and one million new recruits every week.
LinkedIn launched in May 2003 with Hoffman, now 44, at the helm. He took the site through its early-stage growth, drawing on his previous experience as an executive at PayPal. In 2009, Hoffman passed the reins to current CEO Jeff Weiner, but remained as executive chairman with a 20% stake in the venture. This past May, LinkedIn became the first U.S. social network to go public. Shares were initially priced at $45, shot as high as $122, and today hover around $100. The current price gives LinkedIn a market valuation of $9.6 billion, and makes Hoffman a billionaire.
The success of LinkedIn, which delivered $243 million in revenue last year from marketing and hiring solutions, and premium subscriptions, would be enough to establish Hoffman as a founding father of social networking. But he's no one-hit wonder.
Hoffman caught the social bug in 1997, when he co-founded Socialnet.com, an early dating and community site that was sold to Spark Networks in 2001. Earlier stints in product development and user experience at Fujitsu and Apple trained Hoffman for his role as the startup's "product guy" (his words), and he began to understand of the power of connecting people through online networks.
Next came PayPal, where as a founding board member and executive, Hoffman made a then-fortune from the sale of the payments platform to eBay. He also became known as a member of the "PayPal Mafia," so-called because colleagues like co-founder Elon Musk, Square's Keith Rabois and investor Peter Thiel went on to further success in tech. LinkedIn is Hoffman's claim to fame, but he also became one of Silicon Valley's most prolific angel investors and advisors to young entrepreneurs, especially those with a social bent. He placed successful early-stage bets on Digg (content sharing), Flickr (photo sharing) and Facebook, the biggest sharing site of them all.
Today Hoffman serves as a partner at venture capital firm Greylock, which he joined in 2009. He oversees the firm's investments in location sharing site Shopkick and home sharing site Airbnb, among others. He is also notably, an advisor to Groupon, and a director at Zynga, two companies that were built on the back of social networks, and whose upcoming IPOs could upstage LinkedIn's. But given that Hoffman has a stake in both, he's probably not too concerned.
Says Netscape founder and venture capitalist Marc Andreessen: "Reid is one of the top go-to people in the Valley and in the industry for social Internet businesses of all sizes and shapes. He's both a great company builder and a profound thinker -- a very rare combination. He's my first call when I'm confused."