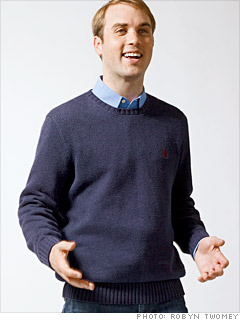 Founder and CEO
Lookout
John Hering was a self-described preteen computer hacker, and he holds the world record for extending the range of a Bluetooth-enabled device from a distance (he was 1.2 miles away). All of which makes him the perfect guy to help consumers and businesses secure their mobile phones from viruses, spyware, and other malfeasance.
Hering's company, Lookout, offers a downloadable app for your cellphone or tablet that, in turn, tells you which of your apps are tapping private data on your phone (contacts, text messages, etc.). Lookout's technology resides in the cloud, and it tracks threats in real time to determine if an app or website is safe for you to access. Today the company has about 10 million users, putting it ahead of traditional data-security companies like Symantec and McAfee, whose mobile security apps have been downloaded hundreds of thousands of times.
Another reason for Lookout's headstart? Hering, 28, built Lookout specifically for the mobile world (he's been looking at wireless security since 2003, long before the smartphone explosion), while many of his rivals come from the PC world, a completely different animal.