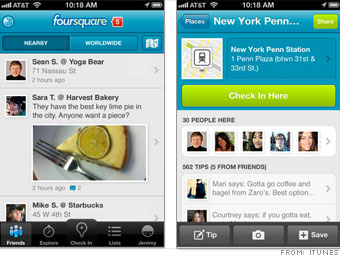 A number of retailers are offering up discounts to users who check in on Foursquare on Black Friday.
Check in at Sports Authority and you'll receive a $25 cash card if you spend more the $100. Twenty lucky customers who check in will receive $500 cash cards throughout the day. Clothing retailer Aeropostale is offering 20% off purchases over $50 to users who check in, while customers at Brookstone get $10 off if they spend more than $70.
JCPenny isn't offering up a discount to users who check in, but for every check-in from 4am to 1pm, the retailer will donate $25 to the Salvation Army, up to a maximum of $100,000.
And for those who want to opt out of the Black Friday madness, the check-in service partnered with American Express to offer up Small Business Saturday: Spend $25 that day on your AmEx at a participating local merchants across the country and American Express will credit your account $25. Here's the fine print: Users must synch their Foursquare account with their AmEx cards before Thanksgiving. You can see if any of your favorite local businesses are participating by searching the `Explore' tab on Foursquare and taping on `Specials.'