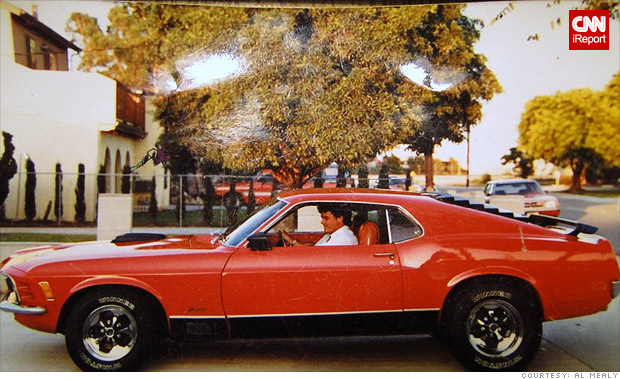 iReporter: Allen Mealey, Reche Canyon, Cal.
Of all the cars CNNMoney readers submitted as part of our "Best Car I Ever Had" iReport assignment, one nameplate clearly outstripped all the rest. No single car model was represented more often than the Ford Mustang. Just as surprising were the submissions of two separate Chevrolet Volts. That's quite a showing for a car of which only about 8,000 have been sold in a little over a year.
In total, Detroit products far outnumbered European and Asian cars. There's something to be learned here, and it's something American automakers can capitalize on. While market share for U.S.-based automakers has slipped over the past two decades as more buyers turned to Asian brands, American cars seem to maintain an emotional pull.
Just check out Allen's Mustang story.
Wow, what a car! From 1976 to 1980, I was the President of the 'Mustang Classics' car club here in Southern California. Of the 22 'classic' Stangs' that I owned, this was my favorite pony car.
At the time, our club allowed 1964.5 [the very first Mustangs, which came out halfway through the 1964 model year] to 1970 models only. 'Flatbacks' from 1971 to 1973 were considered fugly, and what was that embarrassing thing called? A Mustang II?
Now my car in this picture was not your average '70 Mach 1. It had several rare options, that included the "Shaker" hood, the rear spoiler, and the rear "Sports Slats." These items were often called "The Boss" options, because most Boss 302 models had this optional equipment.
The car also had the very rare red interior with the black stripe. Most Mach 1's had the black interior with the red stripe.
Krager wheels were "The Bomb" then, and of course you had to have the Pioneer "Supertuner" stereo system -- FM radio and LA based KMET was the king!
I bought the car for $3,500 in 1981, and I sold it for $9,900 in 1988. The funds were used to help purchase my first house.
Who would ever believe that 25 years later, l would go to "The Dark Side" - Japanese cars!
Still wish I had this beautiful automobile...we are glad to see the American Manufacturers are back on the right track!