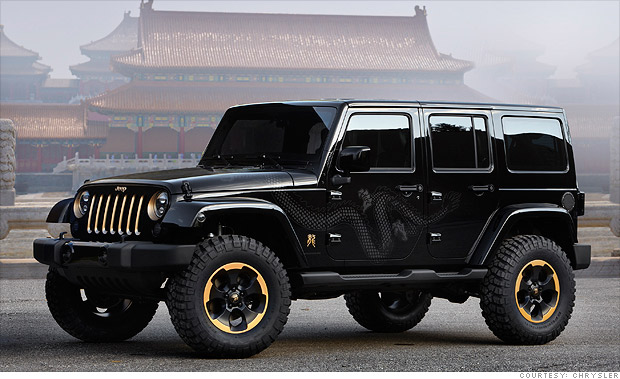 As the Chinese celebrate the Chinese Year of the Dragon this year, the Wrangler Dragon design concept is all dressed up for the party.
It's a Wrangler Unlimited Rubicon with special 18-inch wheels, 35-inch off-road tires and gold-colored details on various parts of its all-black body. And, of course, a big dragon slithering down its side.
The dragon motif carries on inside, too, where the seats are trimmed in shiny gold fabric with a dragon scale imprint. The dragon even appears in back on the spare tire cover.
"The Wrangler Dragon design concept is the first Jeep vehicle designed specifically with Chinese elements in mind and showcases the opportunity for special editions that might be available for China in the near future," Jeep chief executive Michael Manley said in a Chrysler Group announcement.