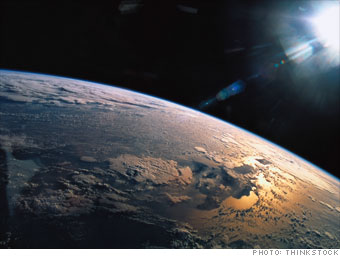 Gingrich's website reveals 19 books authored by the former house speaker on subjects ranging from health care policy to the Battle of Gettysburg.
One not listed: "Window of Opportunity: A Blueprint for the Future," published in the 80s. On the cover, Gingrich is listed as "Chairman of the Congressional Space Caucus."
In the book, Gingrich endorses the idea that a large array of mirrors could provide extra light so as to allow "farmers in high altitudes to plant their wheat earlier."
"A mirror system in space could provide the light equivalent of many full moons so that there would be no need for nighttime lighting of the highways," Gingrich writes, according to an excerpt posted by PolitiFact. "Ambient light covering entire areas could reduce the current danger of criminals lurking in the darkness."
"Mirrors could be arranged to light given metropolitan areas only during particular periods, so there would be darkness late at night for sleeping," he continued.