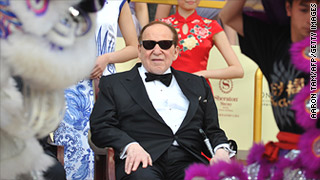 Super PAC donations: $25,000,000
Political orientation: Conservative
Donation ranking: 1
Casino magnate Sheldon Adelson and his wife Miriam have a lot of money -- and they aren't afraid to use it for political purposes.
During the rough-and-tumble primary season, the couple donated $20 million to Winning Our Future, a super PAC with ties to former House speaker Newt Gingrich.
The donations, which were used to finance attack ads against Mitt Romney, are largely credited with keeping Gingrich in the race while his campaign struggled to raise money.
A $5 million donation was later returned by the super PAC after Gingrich abandoned his bid.
Adelson plans to spend even more to support Republican efforts this fall. He has already given $10 million to Restore Our Future, a pro-Romney super PAC.
Adelson, the current CEO of Las Vegas Sands, isn't likely to stop there. His total donations this cycle might top $100 million, with some of that going to groups that are not required to disclose their donors.
No matter the final number, Adelson can afford it. The tycoon's fortune is estimated to be in the $25 billion range.