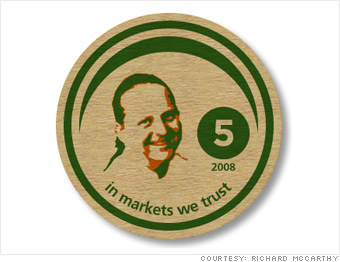 Location: New Orleans, La.
Started: 2004
In New Orleans, the rise of debit card use spurred one farmers market to make its own money.
In 2004, a growing number of shoppers wanted to put their purchases on plastic, but the local farmers didn't have the machines to accept the cards. That's when the market's coordinators stepped in and created Crescents.
Customers can buy the wooden coins with checks, debit cards or food stamp benefit cards when they arrive at the market and then shop at the stands. Vendors who get paid in the wooden coins can use the coins somewhere else that accepts them, which in this case would be another vendor in the market. Vendors even pay rent for spaces at the market using wooden coins.
There are three markets per week, all year round, with about 70 vendors at each. About 3,000 shoppers attend the markets per week. Since the aim is to facilitate transactions between locals and farmers, coin use has not yet expanded beyond the farmers market.
The wooden coins, which feature "fallen food heroes," such as chef Jamie Shannon and farmer James "Billy Corn" Burkett, have been used to make over $1 million in transactions so far, estimates Richard McCarthy, the currency's co-founder.