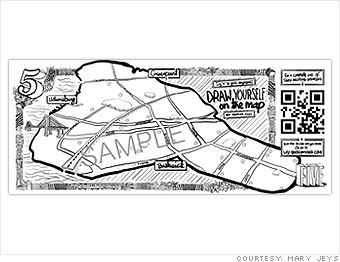 Location: Brooklyn, NY
Started: Still forming
To help bring together the diverse cultures of her local Brooklyn communities, Mary Jeys is in the process of launching a currency in the borough's Greenpoint, Williamsburg and Bushwick neighborhoods.
Jeys is asking for design submissions for the Torch from the public. By doing so, she's been able to gauge the level of excitement in the community for the currency. So far, she said, the interest has been "inspiring" and she has received anywhere from 50 to 75 design submissions -- ranging from collages and crayon drawings to detailed printed designs.
The nearly-finalized five dollar bill features a map of Brooklyn where users can mark where they used the Torch. She also plans to include a QR code on the bills that can be scanned on a smartphone to see where Torches are accepted.
Each Torch will be equivalent to one U.S. dollar to make the math simple. Once in circulation, Jeys will encourage businesses to offer small discounts to Torch-users.
"My motivation is to experiment ... to see what will happen if I print bills and support the usage in both bricks-and-mortar locations and between neighbors," said Jeys. "I have hopes that working toward a smaller regional economy will support our understanding of how we interact with each other, and how we use our money as communication."