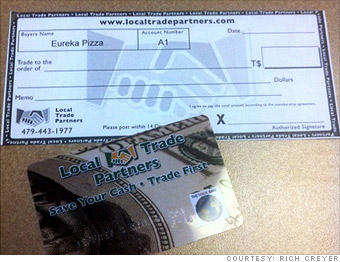 Location: Fayetteville, Ark.
Started: 2009
Local Trade Partners, in Fayetteville, Ark., is a hybrid between a local currency and old-fashioned bartering, letting local businesses exchange services for "trade dollars."
An auto repair man can change the oil in someone's car, for example, and that person can pay him in trade dollars. The repairman can then use that money at the local Italian restaurant, or even at the orthodontist. And because the aim is to help local businesses, members must be business owners and they are required to live locally -- no big corporations are allowed to participate.
"When you go to Home Depot and buy $100 worth of lumber, some of that profit is leaving your town and going to a different part of the world, never to come back," said Rich Creyer, co-founder of the exchange. "By making trade money, we have created a sealed system. It's our own little economy and country in a fishbowl."
Members use personalized checks to make payments and are given membership cards to display at the register to verify their membership and identities. About $800,000 in trade dollars is circulating among more than 500 businesses, and $2.7 million in local sales were made using this "trade money" in 2011, Creyer said.
Since Local Trade Partners is a for-profit company and running the exchange is a full-time job for Creyer, the company charges business owners a 5% fee for each transaction.