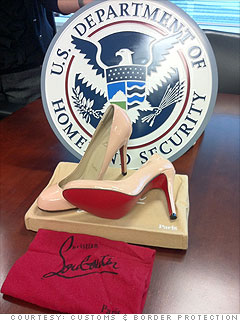 Value of counterfeits seized: $25.3 million
Retail value: $97 million
Percentage of total seizures: 14%
Counterfeit shoes used to consist mostly of Nike knock-offs and other athletic footwear, but these days the fakes are going high-end. Counterfeiters are now selling luxury brands like Christian Louboutin and Jimmy Choo, which retail for upwards of $600. And of course, there are those ever-popular Ugg boots that cost $200 a pop for the real deal.
Good fakes go way beyond the painted red sole that those Louboutins are known for, however. A clever counterfeit includes a replica shoebox, dust bag and even minor packaging details like the tiny moisture-absorbing micro-tech insert, said Randazzo.
She recommends steering clear of sales at flea markets or street vendors. But with shoes, the best way to spot a fake may just be the old Cinderella method, "when you put them on, you'll know," Randazzo said.